Aika and Reika presented in IEICE SIG-HCS (2022.1.28)
Aika Tsuchida and Reika Miwa presented their research on overtrust scale of users in recommender systems in IEICE SIG-HCS held online. They developed a scale with a small number of questions to measure how much overconfidence users have in the recommender system. To test the validity of the developed scale, they conducted a user experiment to measure overconfidence in YouTube's recommendation function. 631 users participated in the experiment, and analysis of the experimental results showed that the developed scale had consistent responses. They found that their proposed scale also correlated with the existing scale that measures the trust on recommender functions and a scale that measures acceptance of new technology. There were many questions asked in the workshop and we enjoyed the discussions among the audience.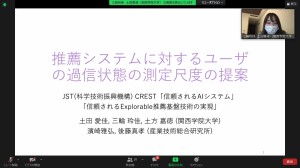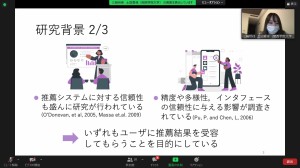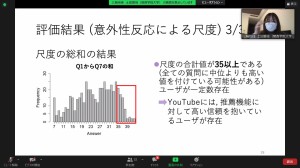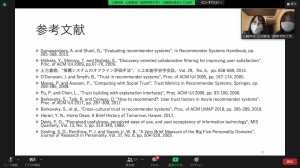 *This work has been conducted in CREST project "Building explorable recommendation framework" (JPMJCR20D4) with Dr. Masahiro Hamasaki and Dr. Masataka Goto in AIST.
IEICE SIG-HCS [HP]